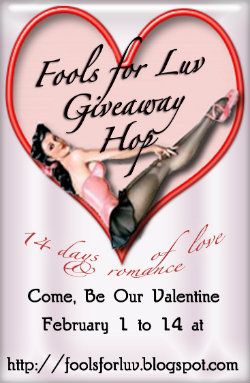 So sorry for the technical difficulties! This was really supposed to post much earlier, but due to user error I think, I'm a little late.
Anyways!
Hello all you Fools for Luv Blog Hoppers! Welcome to February, the month where everything is pink, red and romantic. At least in a perfect world!
A lot of times we think of Valentine's Day and the whole hooplah around it as being just for couples. Sure, that's where the marketing of the holiday goes and what most people focus on. Honestly my favorite Valentine's Days have been when I was single. No, I'm not talking crazy. I know a lot of people aren't fond of V-Day if they're single, but think of all the fun you can have!
One year I had a huge pajama party and invited all my single friends since we had nothing to do. We spent the night watching the silliest movies, baking cookies and being silly. It was guys and girls, and we had a blast. It wasn't about being single or dating, it was about getting together and enjoying each other.
Another year a few of my closest girl friends got super dressed up and went to a super nice restaurant. Again, not because we wanted to flaunt our singleness, but because we wanted to celebrate what mattered, and that was our relationship with each other.
I can't think of a single Valentine's Day that I've been dating and did anything as a couple. I'm sure I have, but they don't stick out. What has always made V-Day great for me is the celebration of that personal connection to the people who are important to me. Which is why I think showing your friends how much you dig them on V-Day is an awesome excuse for some hugs.
Okay, so this is a short post because I know what everyone's really excited about.
The giveaway.
As part of the Fools for Luv Blog Hop, I'm offering a giveaway of winner's choice of one ebook from my backlist. This contest is open to both US and non-US countries. Hey, it's digital so it doesn't matter! All you have to do is answer the following question and after V-Day I'll select one random winner!
What's your favorite Valentine's Day memory, or your ultimate fantasy?
Be sure to visit the Hop organizers, Steph at Fangs, Wands and Fairy Dust And Dana at Readaholics Anonymous